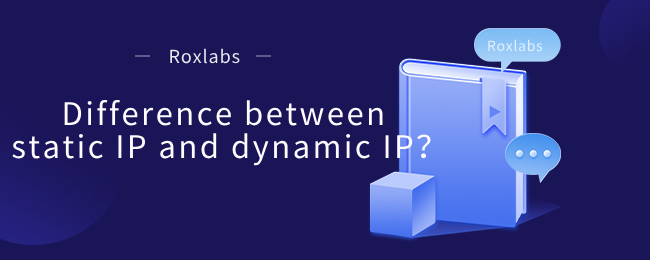 Basic concepts of dynamic IP and static IP:

Dynamic IP refers to how IP addresses are allocated when needed. What we call dynamic is that every time you surf the Internet, the telecom company randomly assigns an IP address.
Because IP address resources are very precious, most users use dynamic IP addresses when surfing the Internet. For example, computers that surf the Internet through mode, ISDN, ADSL, wired broadband and community broadband will temporarily allocate an IP address every time they surf the Internet.
Static IP address refers to the IP address assigned to users by ISP during installation. You can directly connect to the Internet without obtaining the IP address. Corresponding dynamic IP address and static IP address.
Differences between the two:
1. In short, using static IP, disconnect the network connection and reconnect with the original IP address, while using dynamic IP, the IP address becomes different after disconnecting and reconnecting.
2. Pricing: static IP is generally a fixed IP address owned by a dedicated server or a computer with dedicated Internet access, which requires a high cost. The price of a dynamic IP will be cheaper.
3. In terms of network speed: there is little difference between the two, and static or dynamic has little impact on network speed.
4. Compared with static IP, dynamic IP is more flexible and fast, while static IP is more stable. Nowadays, many network activities, such as network promotion and voting, restrict IP addresses. For example, only one IP can be registered every day, or only one vote can be cast for the same IP, which increases the demand for the number of IP. In this case, it is convenient and fast to use dynamic IP comparison. Static IP addresses can be used for enterprises that need to stabilize or host multiple applications. If you want to access your computer remotely, you also need to use a static IP address.
Roxlabs includes global dynamic and static residential IP resources, unlimited concurrent requests, and 500MB traffic sent upon registration, which can greatly improve the business success rate.