In the process of web page data collection, we often encounter that many websites adopt anti cheating technology, or because the intensity and speed of collecting site information are too large, it has caused great pressure on each other's server.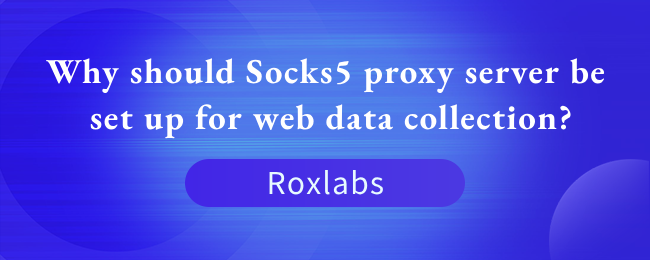 Assuming that you have been using the same Socks5 proxy server to grab this web page, it is likely that IP will be prohibited from accessing the web page, so basically, people who do web page data collection cannot escape the problem of IP.
Generally speaking, web page data collection cannot maintain their server, nor can they use their own proxy IP address. First, the technical content is too high, followed by the high cost.
It is true that many people will put some free Socks5 proxies on the Internet, but considering practicability, stability and security, free IP is not recommended. The Socks5 proxy published online is not necessarily available, and it is likely to find that the IP is unavailable or invalid during use.
Therefore, there are many proxy servers, which can provide IP proxy services. The difference is price and efficiency.
At present, it can be said that it is a very common requirement for web data acquisition programs to safely avoid anti cheating programs. Therefore, Roxlabs proxy is recommended here. It not only provides proxy IP resources, but also has a high availability rate, and continuously outputs new IP for 24 hours. In short, Roxlabs proxy is like an intermediate bridge. It can set HTTP proxy, HTTPS proxy and S5 proxy according to the needs of users. Therefore, you only need to realize the continuous switching of IP addresses through simple operations.
Of course, many people will use their brains to seize the IP resources of some proxy servers. Here we also remind you: Web data capture must be carried out within the legal scope, and you must not do anything illegal.